Sports Offered at St. Ignatius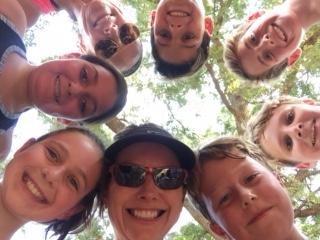 | | | |
| --- | --- | --- |
| Sport | Months Played | Participants |
| Varsity Volleyball | August-Early November | 7th and 8th Grade Girls |
| Flag Football | August-Early November | 7th and 8th Grade Boys |
| J.V. Volleyball | August-Early November | 5th and 6th Grade Girls |
| Cross Country | August-Early November | 5th-8th Grade Girls and Boys |
| Varsity Basketball | Mid November- Early March | 7th and 8th Grade Girls and Boys |
| J.V. Basketball | Mid November- Early March | 5th and 6th Grade Girls and Boys |
| Little Dribblers | Mid November- Early March | 1st-4th Grade Girls and Boys |
| Golf | Mid March-Mid May | 5th-8th Grade Girls and Boys |
| Track and Field | Mid March-Mid May | 5th-8th Grade Girls and Boys |
| Varsity Volleyball | Mid March-Mid May | 7th and 8th Grade Boys |
| Flag Football | Mid March-Mid May | 7th and 8th Grade Girls |
In keeping with the PAL structure, teams will be formed for JV and Varsity:
Junior Varsity–Students in the 5th and 6th grades
Varsity–Students in the 7th and 8th grades.
There are no tryouts for Flag Football, Little Dribblers, Track & Field or Cross Country. No cuts are made for these sports.
Tryouts are held for Volleyball, Basketball and Golf. Cuts are usually made. Recreational teams may also be formed. Factors include the nature of the sport, the availability of facilities, volunteer, and coaches. Teams are allowed to practice a maximum of two times a week after league games begin.
Athletics needs parent volunteers to help at all our events. It is because of parent involvement and support that we are able to run an effective and competitive athletic program at St. Ignatius.
Soccer is not part of the St. Ignatius School Athletics Program. However, as a member of the California Youth Soccer Association the St. Ignatius Soccer Club provides an opportunity for classmates to play soccer together. Signups are taken in April for the September-November playing season.
If you have questions, please contact Lisa Schneider at lschneider@stignatiussacschool.org or call the school office at 488-3907.
Go Tigers! Go Tigers! Go Tigers! Go Tigers! Go Tigers! Go Tigers!