Grandparents and Special Friends Day
Friday, October 14, 2022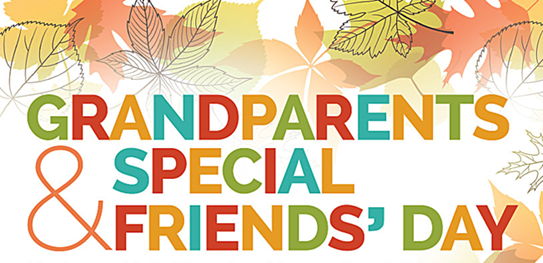 Students and their grandparents or special friends will celebrate together with Mass and lunch on Friday, October 14, 2022.
9:15-10:15 am Reception for Grandparents in the Gym
Students will come to the gym and join their grandparents and special friends there to walk over to the church for Mass.
Grandparents and special friends who arrive closer to the beginning of Mass can meet their students in the back of the church.
Students in 3rd, 4th, and 5th grades will be serving in Mass so they will not go to the gym, they will meet their guests inside the church after Mass.
10:30 am Mass
Following Mass, grandparents and special friends are invited to go with their students to see their classrooms and then have lunch.
Lunch: You may bring your own lunches or we will order lunches for you through Panera. You may order lunches here. Orders are due Monday, October 3. These lunches and water bottles will be available for pick-up in the gym following Mass. Lunch tables will be set-up in the gym and in the outdoor student lunch area. There is no hot lunch service this day so be sure to include your student(s) in your lunch plans.
Dismissal for all students will be at 12:30 pm. If grandparents, special friends, or parents, are checking students out before 12:30 pm you need to sign-out using the form at the classroom door.
Extended Services will open at 12:00 pm and close early at 4:30 pm.