Our Boon Supply Fundraiser is now in full swing!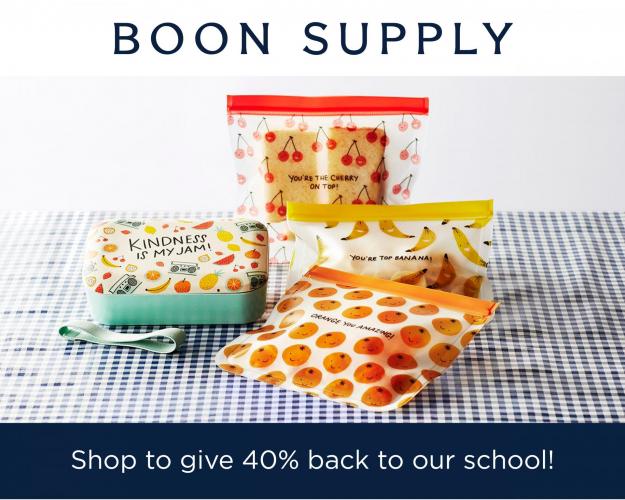 The fundraiser will be 100% online so you can shop in the comfort of your own home. Better yet, so can your friends and family! You can share the attached flyer with them, or, even easier, you can click on the link above, then click on the rocket icon. You can quickly and easily use the BOOST10 option to enter the email addresses of the friends and family you would like to share the fundraiser with. Also look for FaceBook and Twitter icons to easily share our fundraiser on social media! Each order will be shipped directly to the home of the purchaser. It doesn't get any easier than that!
New this year - Teacher shopping sprees! Every class that has at least 50% participation will earn their teacher a $100 shopping spree at Boon Supply. Or, go one step further because every class that has at least 75% participation will earn their teacher a $150 shopping spree at Boon Supply! Additionally, the family that raises the most money will earn a $100 gift card to Boon Supply to give to the teacher or staff member of their choice!
50% of your total order amount goes toward your fundraising dollar requirements, and 40% of every order comes straight back to our school!
Boon Supply has more than just bags! They have great items for home, office and car organization, kitchen tools and wrapping paper. Click the link above to start shopping or check out their virtual catalog.
Questions? Please contact Cynthia Clark | cheebclark@gmail.com or Richele Cooley | sealife227@gmail.com