St. Ignatius School takes 2015 Academic Decathlon title
article from Diocese of Sacramento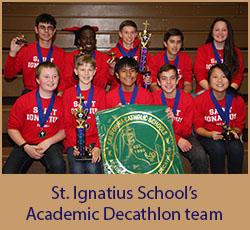 TO COMPETE APRIL 18 AT STATEWIDE MEET
For a record-setting eighth consecutive year, St. Ignatius School in Sacramento placed first in the Diocese of Sacramento's Junior High Academic Decathlon on March 7. The team, comprised of seventh and eighth graders, will represent the diocese at the statewide decathlon championships on April 18, which will be held this year at Sacred Heart School in Sacramento.No other school in the 26-year history of the event has achieved this unprecedented success.
The Academic Decathlon is a competition among teams from Catholic schools in the diocese. Twenty-four schools took part in the diocesan event, which culminates in a 50-question "Super Quiz," where students test their knowledge in five subject areas: science, social studies, literature, fine art and religion. In addition to its unparalleled winning streak, St. Ignatius is the first school in decathlon history to have achieved a perfect score in this event.
"We are so proud of our students, coaches and parents," said Patty Kochis, principal of St. Ignatius School. "Literally thousands of hours go into preparing for this day. We are honored to represent Sacramento at the statewide competition."
Another important challenge is a 20-question logic exam where team members must work together to analyze mathematical problems. The contest also includes eight individual events which test student understanding of current events, English, literature, science, mathematics, social studies, fine arts and Roman Catholic doctrine.
"This experience teaches the students so much," explained Elisa Arostegui, team coach. "It's not just about winning. It's about working hard individually, but more important, as a team. The problem-solving and analytical skills the students lean through this process will help them as they enter high school and throughout their lives."